Lotus Elan of Eagles Eye's 
(Coconika's Dreamer x Int. Ch. Scarlett of Eagles Eye's)

Red Silver Tabby Blotched White
Born: 15-05-2011
NRKV: 2011-0344
Testresults:
Fiv/Felv:
HCM Echo:
HCM DNA: -/-
PKD Echo:
PL:
SMA:
Lotus was not planned… But very welcome! She was supposed to go to some one else
unfortunaly because of several circumstances this didn't work out. And we got the question
if we were interested. I (anneke) had seen her several times in the litter and liked her very much
so we didn't have to think about it very long and took her home.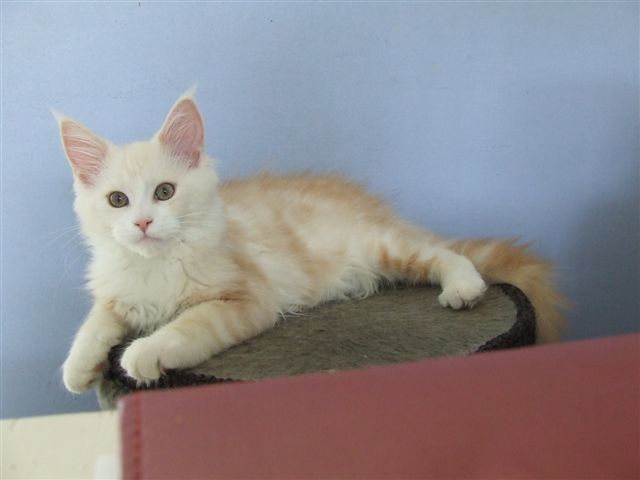 Lotus 14,5 weeks old 
| | | | |
| --- | --- | --- | --- |
| Show results | | | |
| 11-09-2011 | NKU Sara | 3 till 6 months | 1 Exc. Nom.Bis |
|   | Rotterdam |   |   |
| | | | |
|   | |   |   |
| | |
| --- | --- |
| | |
| 15,5 weeks old | Playing outside with Disco |
| | |
| |   |
|   |   |
|   | |
|   |   |
|   |   |
|   |   |